Escalade ESV
The Cadillac Escalade ESV boasts a luxurious cabin, comfortably seats up to 7 adults, and still boasts an additional 45.8 cubic feet of interior space. In addition to tremendous room, the stunning interior offers standard features like Bose™ 5.1 Surround Sound and a Rear Vision Camera. The Escalade ESV delivers plenty of space for you to ride with room to spare.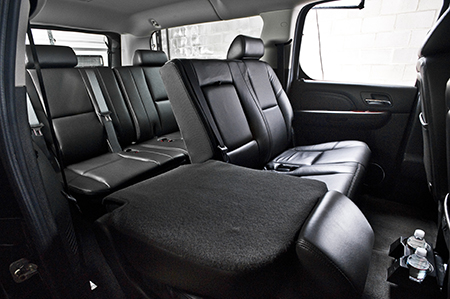 ---
Passengers: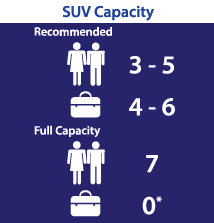 Five passengers very comfortably.
Can accommodate a 6th person in front passenger seat, or a 7th with extra seating row.
Luggage:
Fits up to 6 average size bags.
* No space for luggage if extra seating row installed
Cargo Area = 45.8 cu ft
---
Average passenger assumed to be 5'11" 180-185 lbs.
Average luggage size assumed to be bags able to fit in an airline overhead bin.